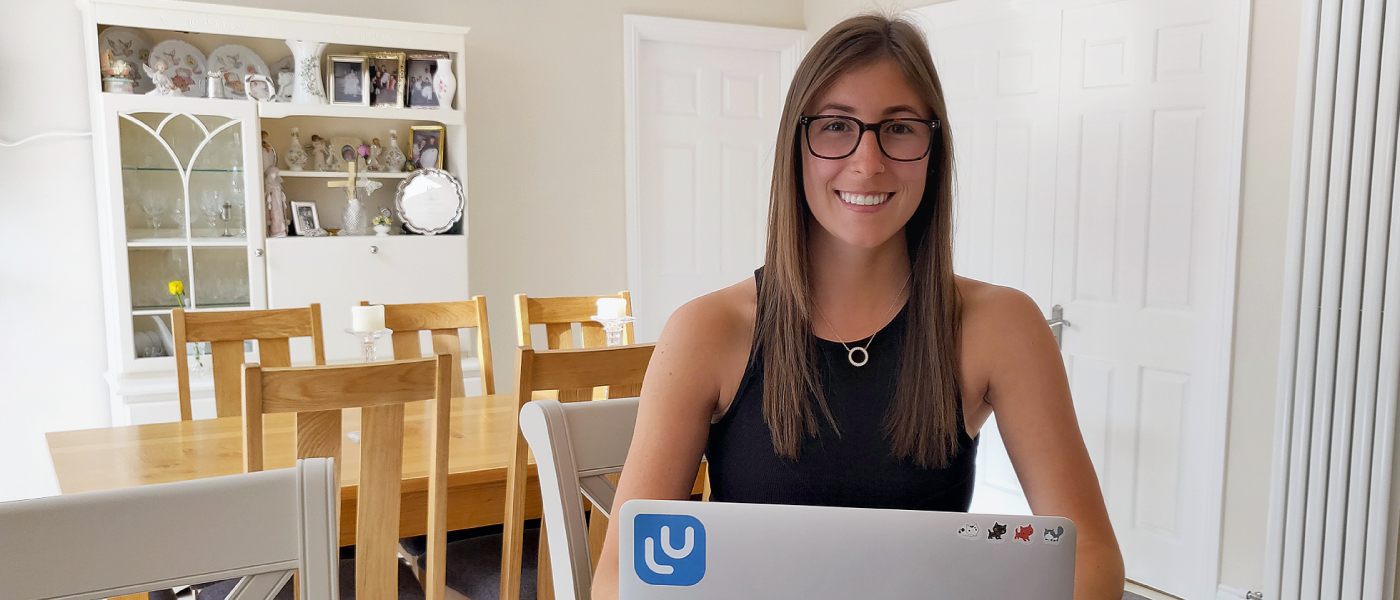 5 min reading time
Transitioning from Sales to People Ops
LearnUpon has grown rapidly over the last year. To facilitate this growth, we've committed to scaling our Talent Acquisition Team. So, when the team needed a Talent Acquisition Coordinator in Dublin, they decided to expand their search to include LearnUpon's existing employees. We're always looking to provide our employees with new opportunities, encouraging them to follow their ideal career paths. 
In this Life at LearnUpon post, we talk to Sarah Martin about her journey from college graduate, to Business Development Representative, to Talent Acquisition Coordinator.  
How did you start working at LearnUpon?
I applied for the role after Phily Hayes, Head of Business Development, delivered a talk on SaaS sales strategy as part of a Masters I was completing. Not long after this, I discovered that LearnUpon was hiring a Business Development Representative, and even though my Master's degree was in marketing, I was interested in the Sales role.
 I was delighted to make it to the final round of the BDR interview. And, all my hard work paid off when I was offered the role. It felt incredible that a company wanted to offer me a job, even though I hadn't yet completed my Master's degree.
 LearnUpon were very flexible and worked around my studies – I was offered the role in June but I hadn't yet completed my third, and final, semester. To accommodate this, my start date was scheduled for September.
 To be honest, I was nervous on my first day. But, once I got there, I was blown away by the friendliness of the team and how relaxed the environment was. 
You've been working at LearnUpon for two years, what have you been doing? 
Good question! Where do I begin? The great thing about working at LearnUpon is that you get the opportunity to take on more responsibility, and gain an immense amount of knowledge, in different areas of the business.
 Apart from doing my day-to-day role as a BDR, I got involved in different aspects of the company, including joining the Culture Club. This working group organizes regular social events for LearnUpon's employees. After six months, I was delighted to be offered the role of running the Culture Club.
Phily and I have delivered SaaS sales talks to university students, and also worked with TUD (Technological University Dublin), my old Masters course, on a project that resulted in the recruitment of some amazing new BDRs. Hiring new graduates in this way has since become an annual occurrence.
 I love trying the new opportunities LearnUpon has to offer, so when they needed someone to act as a temporary Conference Coordinator for a few months, I jumped at the chance. While this role was challenging, it was rewarding, especially when I attended a conference first-hand and was part of the action.
It's amazing to have so many opportunities! How did you feel when the new role of Talent Acquisition Coordinator was offered to you?
Every year, LearnUpon asks their employees to reflect on their current role, and to share how they'd like to progress within the company. So, a few months ahead of being two years at LearnUpon, I did just that. While I loved being a BDR, it was my first role out of university. I decided that I wanted to see what else LearnUpon could offer me.
When the Talent Acquisition Coordinator role opened, it got me excited. It featured elements of my current role that I love, like building relationships and being fast-paced, but it also offered opportunities to further develop my marketing skills.
After discussing the move with my manager and Eimear, the Peoples Operations Manager at LearnUpon, I decided to make the move. I never expected to take this route in my career and I am so glad I made this transition. 
How did you feel about transitioning from one team to another?
Due to global circumstances, we were all working remotely at the time, which made it a strange, yet subtle transition. If we were all in the office, I'd have to physically move from one desk to another, to join my new team. Whereas working from home means I can just stay where I am.
For the first few months I worked as a BDR in the morning and as Talent Acquisition Coordinator in the afternoon. I had my work cut out for me during this time but I was happy to be kept busy.
 Thankfully, transitioning from one team to another wasn't daunting; I knew everyone on my new team so it was all really exciting. I miss my old team – I'm proud to say that I was the first female to be hired into the Sales team – and we now have plenty of ladies breaking the glass ceiling in LearnUpon's Sales team!
What do you enjoy most about your new role?
My new role is very exciting and I feel the team has great confidence in me and my ideas. I thoroughly enjoy building our employer branding strategy. This is a major consideration for prospective candidates because they need to know that this is an amazing place to work, and that their skills will be nurtured and developed, before they join the company. I'm lucky to have great support from the People Ops team. We're all working towards enhancing our vision of LearnUpon as a major Saas employer.
A project we're working on right now, is the candidate journey. We want to up our employer branding game, to give future candidates a true insight into working at LearnUpon, during the interview process. This project has resulted in the Marketing and Talent Acquisition teams working closely together, and is just one example of the cross team collaboration that comes with my new role. At LearnUpon there's plenty of project-based collaboration between teams – it's a great way to gain a greater understanding of how other teams operate, and get to know your colleagues that little bit better.
 LearnUpon provides you with the freedom to make a change, no matter how big or small, and take charge of your career. I'm very grateful that my first role after college has been a huge success so far. I'm really looking forward to my future development as a Talent Acquisition Coordinator at LearnUpon!