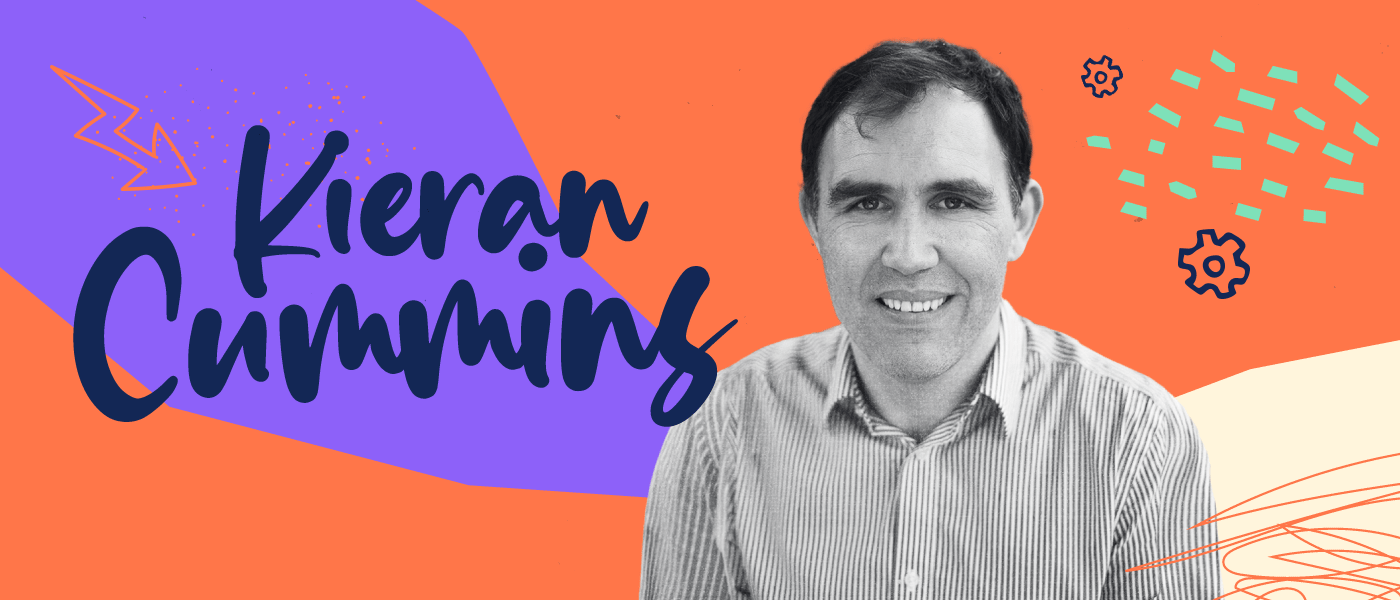 4 min reading time
Leading LearnUpon: Meet our Head of Engineering, Kieran Cummins
LearnUpon's Engineering team is an essential part of the future vision for our learning management system (LMS). They're responsible for building, maintaining and enhancing LearnUpon to help businesses worldwide unlock the power of learning. 
Kieran Cummins, LearnUpon's Head of Engineering, takes the technical vision and blends it with the product vision. It's his ability to collaborate and drive innovation that enables LearnUpon's Engineering team to deliver a high value offering that meets the wide ranging needs of our customers. 
Why did you join LearnUpon?
My journey was an unusual one. I had a friend that worked at LearnUpon, so I already had an idea of the culture and an insight into how the company worked. What really stood out to me was how accessible Brendan and Des were to their employees. It was clear to me that an open and collaborative environment was actively encouraged, with everyone getting a chance to contribute and have their voices heard. So, I applied and joined as Head of Quality Assurance.
Within a few months I'd formed a great working relationship with Des. He mentioned that LearnUpon would soon be looking for a Head of Engineering and wondered if I'd like to apply for the role. Honestly, I wasn't considering another role – I'd only just started as Head of Quality Assurance after all! But the more he talked about the role, the more interested I became. Next thing I know, I'm back in the same boardroom as my first LearnUpon interview. Surreal just does not cover it.
What makes you look forward to coming into work everyday?
That's easy – it's the people 100% of the time. You can have interesting challenges in any company, but if you don't enjoy the company of the people you work with, then you're not going to enjoy working there. It's that simple. A good company culture is crucial, and part of that culture is just a reflection of the people you deal with day to day.
At LearnUpon, we encourage our people to be friendly, approachable and empathetic to each other. And while it's important to try and bring the best version of yourself to work each day, it's not always possible. So, that empathy is always in the back of my mind, because you just never know what someone's going through.
What has been your greatest challenge and proudest achievement since joining LearnUpon?
Well, being offered the role of Head of Engineering introduced me to my greatest challenge. To be honest, I was quite taken aback when I was offered the role. Sure, I've developed QA teams in the past, but this was a different level of responsibility. What gave me the confidence to accept the offer, was that Des and Brendan put that much faith in me. That trust and belief in their people is what makes me love LearnUpon. You get an opportunity and it's up to you to take it.
I didn't find setting the direction for the Engineering team, or mapping out our vision, to be overly challenging – this is a well trodden path that all successful SaaS companies need to traverse. No, the toughest part was forming relationships and building trust with the Engineering team.
The majority of my team are remote which made the initial getting to know each other phase more challenging. I also had to fill Des' shoes and he's a very charismatic leader who had built strong relationships within the team.  
The other big challenge happened when we started to scale out engineering. When I became Head of Engineering, I inherited a team of 18 people. Now the team has grown massively to a total of 76 people – and we're still growing!
What attributes do you think have helped you advance in your career?
Personally, I'd have to say determination, optimism and a hint of stubbornness at times. But, it also helps to be tempered with self awareness, empathy and a desire to do better and improve. I have a natural desire to trust people and a willingness to empower.
I favour autonomy over control. But I've come to learn that autonomy is a double edged sword and needs to be bestowed with care because the recipient must be ready to handle the level of autonomy. I'm also fiercely independent and this can work against you if you don't temper it with a willingness to collaborate and work with others.
If you were to meet 20 year old Kieran, what advice would you give him?
I'm smiling to myself, thinking about what I'd tell my 20 year old self. Firstly, I'd doubt that I'd listen, I was fiercely independent and stubborn. But If I could get myself to listen I would say don't be afraid to trust your instincts. Try to listen, and I mean truly listen to what people are saying. Learn from others but don't worship people because everybody makes mistakes – they just don't tell you about them. Don't be in a rush, don't be too hard on yourself and try to enjoy the journey.