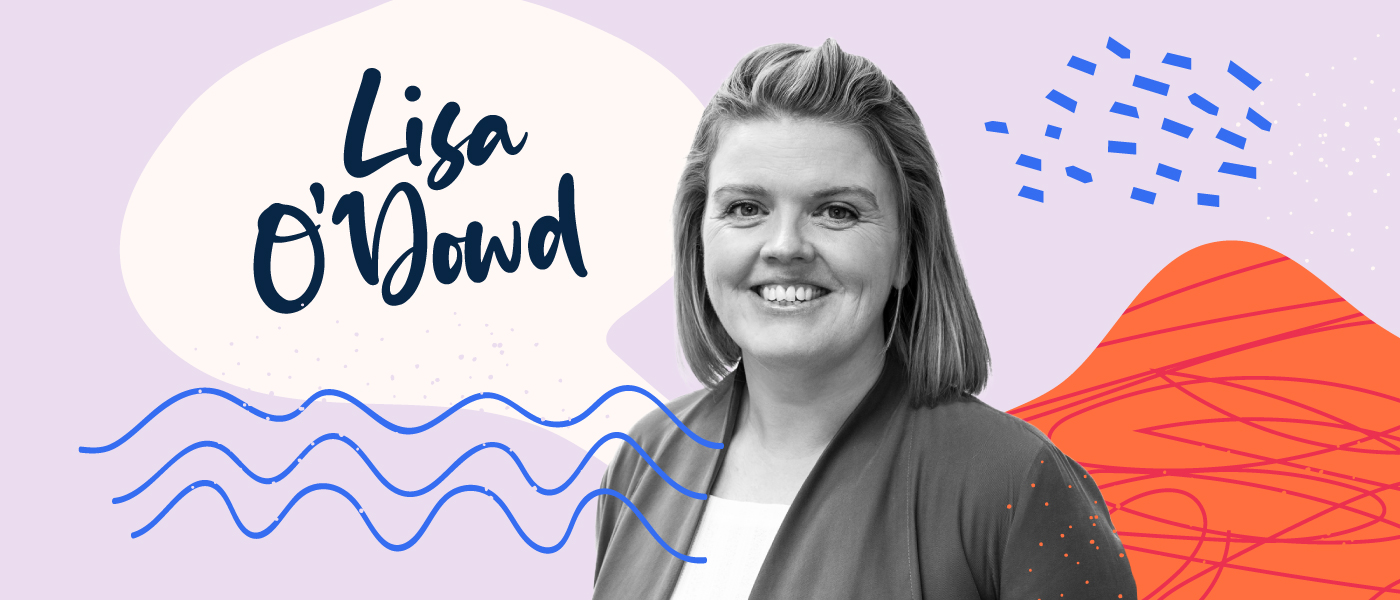 4 min reading time
Leading LearnUpon: Chatting with Our Head of Product
At the heart of every great software company is a stellar Product team. And, at LearnUpon, we believe we have one of the best. From creating roadmaps to collating feedback and planning features, they are shaping a solution that solves real problems for our customers. 
Leading the charge is our Head of Product, Lisa O'Dowd. Having joined the team in 2019, we sat down with Lisa to chat about her career, her team, and her vision for LearnUpon's future. 
Tell us about your goals at LearnUpon, what are you working to achieve? 
My mission is to build a robust and inspiring product vision for LearnUpon.
My team is responsible for the LearnUpon platform's user experience and product decisions. I'm striving to deliver solutions that positively impact every customer and every end-user that interacts with our LMS. We like to think of ourselves as the custodian of the user during the product development lifecycle. 
In my day-to-day role, I lead, coach, and mentor the Product team, made up of Product Managers, Product Designers, Analysts and, Product Operations. I work to ensure that every team member who touches our product has a deep understanding and empathy for our users. This guarantees they're spending their time developing the right products at the right time. 
Why LearnUpon? Why was it the company for you?
Just before I discovered LearnUpon, I took part in an Enterprise Ireland-led program, an organization responsible for the development and growth of Irish enterprises, where I was researching and planning to kick off my own venture. And, it fundamentally changed how I wanted to work.
I loved the autonomy and freedom it gave me. I got to spend time working on creating my own vision and executing my own plan, and when I went back to the job market, I knew this was the type of role I wanted. 
Then when I met the LearnUpon Product and Engineering leaders, I instantly knew LearnUpon was the right fit. For me, the culture was there, the desire to learn from new people and, importantly, they projected transparency out into the world. 
What makes you look forward to logging into work every day?
My role is so varied; there is rarely a day that's the same as the last.
I spend my time working across different teams. My days can cover anything from business transformation planning, cross-functional road mapping, technical feasibility chats, product marketing alignment and one-to-ones with team members. I look forward to Fridays, when we celebrate reaching our weekly goals with a team meetup, fun, and games. 
Achievements and challenges – what stands out for you?
The focus on developing a strong team of Product professionals – that's something I'm incredibly proud of. I work with a talented, industry-leading team that values each other's unique contributions to both our immediate Product team and our Engineering team.
We're continuing to build a strong team by ensuring everyone has a career path, coaching and mentoring opportunities, and each person has the opportunity to participate in recruiting people who complement our values and the personalities and skills on the team. 
Since joining LearnUpon, I've placed a lot of emphasis on developing a product culture that complements our customers' needs. To achieve this we focus on short feedback loops with our customer base, and strong and early collaboration with engineering and customer-facing teams. Our goal is to quickly validate or define a solution to a problem. Over the last couple of years, we've made amazing progress and we're seeing the impact of this culture on product delivery now. 
As for the biggest challenge – time! I want to make sure I am a product leader that can inspire and motivate all team members to pull in the same direction to get things done. To do this, I need to be an expert in roadmap development, product planning, customer discovery, and product development processes and take the lead to embed these throughout LearnUpon. But, I know I am only one person. I need to adjust my expectation that I am the person to embed these across the company and work to delegate ownership to others.
What attributes do you think have helped you advance in your career?
I was lucky. I met my mentor in my first role a long time ago. I worked alongside him for almost 8 years, literally looking over his shoulder. He taught me about the value of making decisions quickly and assessing risk early, but not letting it stop you from progressing. 
Structure and the need to organize comes naturally to me. I started my career in a finance role and then project management, working directly with clients to deliver software solutions; I was a product manager before I knew what that meant. 
I'm honest and direct when giving feedback. I firmly believe as a leader you have to give structured feedback to help people progress, unblock something, or move forward in their own development. I love receiving development feedback because it makes me better at what I do. 
What does the future hold for you and the Product team?
Right now, we're concentrating on our customer journey. I'm looking to continuously shape an industry-leading team that does the research, gets the insights, and has the vision to build the best LMS in the world. And I'm very excited about that!
Are you interested in joining LearnUpon? Visit our careers page and apply today.