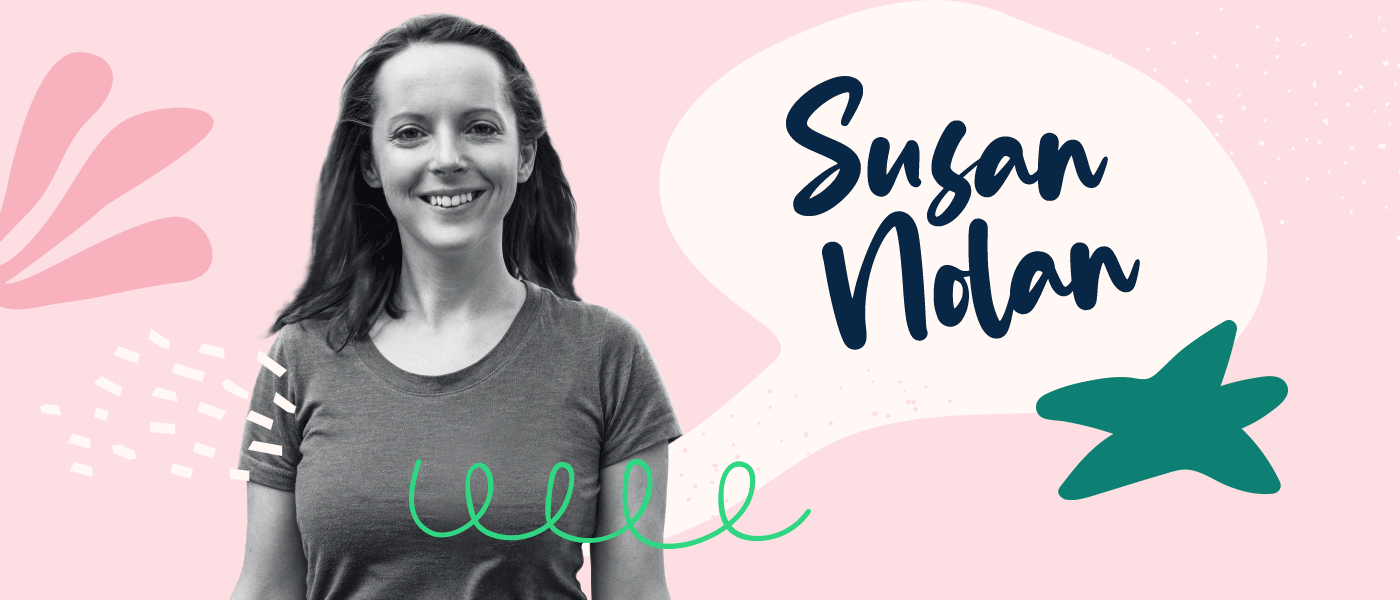 6 min reading time
Leading LearnUpon: Meet our COO, Susan Nolan
What does it take to be a leader? Strong strategic thinking, innovativeness, and trust in yourself and your team.
LearnUpon's Chief Operating Officer (COO), Susan Nolan, embodies all these qualities and much more. Based in our Dublin offices, she has over 12 years experience working for technology companies, across multiple industries.
In this Life at LearnUpon post, I talk to Susan about her journey to becoming Learnupon's COO.
Susan, first tell me about yourself. 
Well, I'm originally from Bray, Co. Wicklow, and I'm a passionate Leinster and Ireland rugby fan. Travelling is something I love to do. I love meeting new people and discovering new places, so I can't wait to be able to go globetrotting again. I have two cats, Isa (Isa Nacewa) and Nigell (Nigel Owens), who I absolutely adore.
Can you give some insight into your role at LearnUpon?
I lead the Operations Team in LearnUpon. That includes a number of departments, such as Workplace, Talent, People, L&D, and Legal. My goal is to support Luppers, which is what we call LearnUpon employees, along their journey in the company. My team's support enables each employee to focus on building our great product and providing an amazing customer experience. 
Why did you join LearnUpon?
I've always worked in the technology industry in some shape or form. My first roles were Customer Implementation and Support roles. Because of these experiences, I knew early on that supporting people was the career path I wanted. Providing the best experience for a customer and being part of teams that are constantly learning and evolving, is something I am passionate about.   
I was lucky to gain most of my experience working as part of large established companies. Every company has a different way of doing things, so these roles taught me a significant amount about how to manage both people and teams. 
But in 2014, I wanted a change. I didn't find my roles challenging enough and I felt I could put my skills and experience to better use at a smaller company. I no longer wanted to just be another cog in the Operations machine, I wanted to help build that machine. To create a culture of support and collaboration.
It didn't take long for an amazing opportunity to come along. My interview with Brendan Noud, our CEO, was in our old offices – a small basement on Leeson Street in Dublin city. When the interview ended, I remember walking out excited and wanting to be part of Brendan's vision to build a Learning Management System (LMS) that puts the customer, and the learner, first. I knew then that LearnUpon was going to be a fast paced and ambitious company, with a great product vision, and a great culture set by the founders. LearnUpon was something special and I wanted to be part of their journey.
What makes you look forward to coming into work every day?
Our people! 
Every now and again, I take a moment to step back and reflect on what we, as a whole team, have accomplished over the past few years. It's crazy to think I was the 9th employee, but now LearnUpon has over 200 staff!
When we hire, we look for people who enjoy learning from others and those who genuinely care about people. After all, we're a customer-focused company and we need our employees to reflect that. 
Needless to say, the LearnUpon team are superstars. They've helped to create a great LMS and continuously strive to provide an amazing customer experience. Every day I hear examples of employees living our Learning Path values and it brings me a burst of excitement and energy knowing that I'm part of growing this amazing company and culture. 
What has been your greatest challenge and proudest achievement since joining LearnUpon?
My daily challenge is figuring out new areas in my role that I've never done before. The best way to approach these challenges is to think of them as opportunities to learn something new and develop myself.
Over the past few years I've learnt so much, like how to hire amazing people, negotiate legal contracts, and source and manage new office spaces. One challenge no one could see coming, was COVID-19. A huge part of my job is to manage and support our Luppers. COVID-19 put a lot of pressure on people who now work from home and may feel isolated. The logistics of remote work was a major challenge also. I found stepping back and using Andy Grove's 6 Question Framework, helped me structure the best approach.
In these unprecedented times, it can feel like the day has passed by in the blink of an eye, and I haven't managed to accomplish what I set out to do. But it's important I recognize that this is actually my role here – to support and lead our team to ensure they accomplish great things in LearnUpon. If I could give you a tip or two, it would be to reflect daily on what you accomplished no matter how small. And, write out a to-do list. This really helps you to reset your focus for the following day. 
One of my proudest achievements is being part of growing the great culture we have here in LearnUpon. Our team is full of energetic, supportive and fun individuals, who all work extremely hard at shaping LearnUpon into a successful company. I'm adamant that the success of our growth is down to the people who work in LearnUpon – customers want to work with fun and happy people! 
What attributes do you think have helped you advance in your career?
My very first job was as a lounge girl in a pub, collecting glasses and chatting to customers, at the age of 16. Throughout college I worked in hotel kitchens, McDonalds, call centers, factory floors, market research and promotions companies. I like to think I'm an extremely hard worker who will take on any task that needs to be done if it helps out my team and the company. I'll never forget the people I worked with in previous roles, the importance of the service they offered, the support they provided to me, and the experience they taught me. That is what has helped me advance in my career. 
An important attribute I've learnt, and can't stress the importance of enough, is to recognize that you're not the most experienced person in the room, and you don't need to be. Always aim to hire people more experienced than you; your job is to support and empower those people to do what they do best. If you don't know something, reach out to your network and find someone who does, so you can learn from them. Also, don't take yourself too seriously, work with people who are not afraid to give you feedback, and who are humble and hold similar values to you. 
The last attributes to mention, and probably my favorites, are resilience and the ability to reset and try again. The most impactful piece of advice I've received in recent years was from a mentor who said to me when I needed a reminder "Isn't life a wonderful thing that as human beings we can reset ourselves to try again?". We all make mistakes and look back on a task we would have approached differently, or a conversation we wish we'd managed better. So, take time to reflect, forgive yourself and always apologize if needed, then try again.  
If you were to meet your 20 year old self, what is the best piece of advice you could give yourself?
Don't have that piggyback race on holidays in Florida and break your shoulder! On a serious note, I'd probably advise my 20 year old self to take more opportunities and get out of my comfort zone, like putting my hand up in college more. After all, everyone in the room is as terrified as you but you'll learn and grow more confident from the experience! I wouldn't change anything about my career, every role has been an opportunity to learn and develop, and has helped shape who I am today.