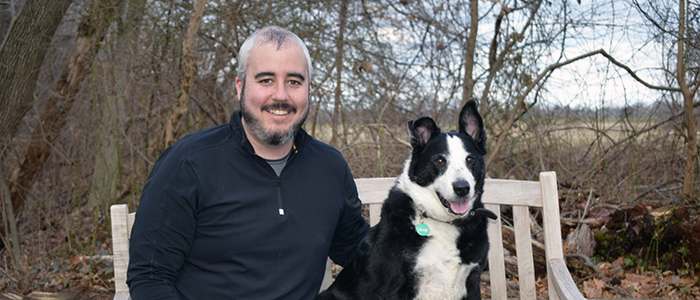 2 min reading time
Why work for LearnUpon's Customer Support Team?
Matt Barry is a notable member of the LearnUpon team. The first hire in our Philadelphia office nearly three years ago, he has quickly worked his way up to become a Technical Support Manager. 
Matt took a circuitous route to Support. Studying music and business at university, post-graduation he worked in a music store. But, after five years he was eager for a new challenge. 
He took a break, taught himself to code, and then started a role in Customer Success at a tech company. Here, he honed his technical chops, before finding his way to LearnUpon. Using his ability to focus on the task at hand – something he learned from practicing trumpet and guitar as a kid – he transferred this to solving difficult technical issues.
We chatted with Matt about his journey to LearnUpon and why he believes you should join the LearnUpon Customer Support team. 
What makes LearnUpon's Customer Support team stand out?
You learn something new each day! The role is very technical, and once you're trained up, there's a myriad of different, complex problems to solve. And with the mixture of skills and personalities, there's always something different going on.
What skills do LearnUpon Support Reps need?
You'll need to know SQL and have a basic knowledge of how a web app works. We'll train you on the rest. Of course, a degree is great to have, but for us, the mindset is more important.
What will you learn from this role?
LearnUpon's a learning management system (LMS), but fundamentally, it's a modern SaaS platform. Along with learning things like what a SCORM file is (there are a few industry terms to know!), you'll also learn the concepts necessary for debugging any modern web app. 
Is there an opportunity for progression?
I'm a prime example. I moved from a Technical Support Representative role to a Senior, then to Manager. Also, there are opportunities outside of Support too. People have switched from Support to SRE, Development, Product, and even more specialized Support roles.
What is the culture and work ethic of the team?
Our team is 24/7, that's why we are worldwide. We work closely with other team members in Dublin, Sydney, and Arizona so that someone is always available to help. We also have daily standups and check-ins with everyone. 
To me, I like to think we're the glue that holds the LearnUpon experience together. Our team works in conjunction with Sales, Success, Product, and Engineering to ensure the customer is always at the heart of everything we do. 
What makes you look forward to coming into work everyday?
There are really smart and interesting people on my team, which makes it a lovely environment to come into each day. We work with some cool companies and great customers too. 
Something I also value is that everything I've been told will happen has happened. From initial training to progression and company growth. LearnUpon is an open company, communication is clear within our team, with coworkers, and from management. 
Are you interested in working for LearnUpon's award-winning Customer Support team? Check out our careers page to discover our open roles.