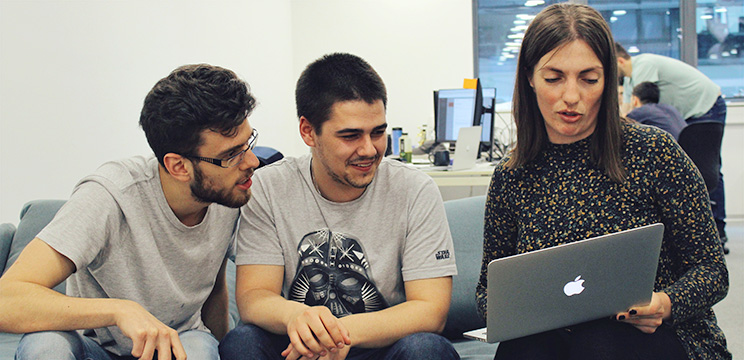 2 min reading time
Discover What it's Like to Work as a Rails Developer at LearnUpon
What's it like to work at LearnUpon? We sat down with Marija Jovanović, a Developer based in our Belgrade office, to discover how she got started with the company and what it's like working for the LearnUpon team. 
Why did you decide to join LearnUpon?
It was definitely a combination of the technology that's being used in LearnUpon and the fact that we're developing a product that's our own. 
From experience, I know that there's a big difference between working in an outsourced environment and working in a single product company, and that's often a deal breaker for me. I like the fact that I'm working on a single product each day, that I have a chance to make an impact, and that we invest a lot in it.
Before joining LearnUpon, I was working with the Rails framework. I really liked it because it's intuitive and logical. I knew I wanted to continue to work with it, and LearnUpon was one of the few companies that were offering that opportunity. 
What makes you want to stay with LearnUpon?
All the reasons that made me join are the same ones that are keeping me here. There's a lot of opportunities for progressing professionally which is very important for developers.
What's also great about LearnUpon is that it's possible to change roles across the company depending on your interests as an employee.
But after some time working in LearnUpon, I can now say that there's one factor that's even more important than all of this – the people. 
When you mention people, how would you explain LearnUpon's culture?
Well, I enjoy the fact that I'm working with genuinely good and smart people. There's no placing blame on someone if things aren't going as planned. Everyone is always ready to lend a hand, and they'll make you laugh while they're doing it.
Our team has made a ritual of celebration every big (and little) occasion. Cake is really important here!
What's really cool is that we sometimes get to travel to Dublin to spend some time with team members from other locations – it's always great fun.
It's such a good feeling when you meet everyone that you've been chatting with on Slack each day in person. It feels like you know them so well before you've even met them face-to-face. For me, it all comes back to people – I think LearnUpon's amazing people are their best asset.