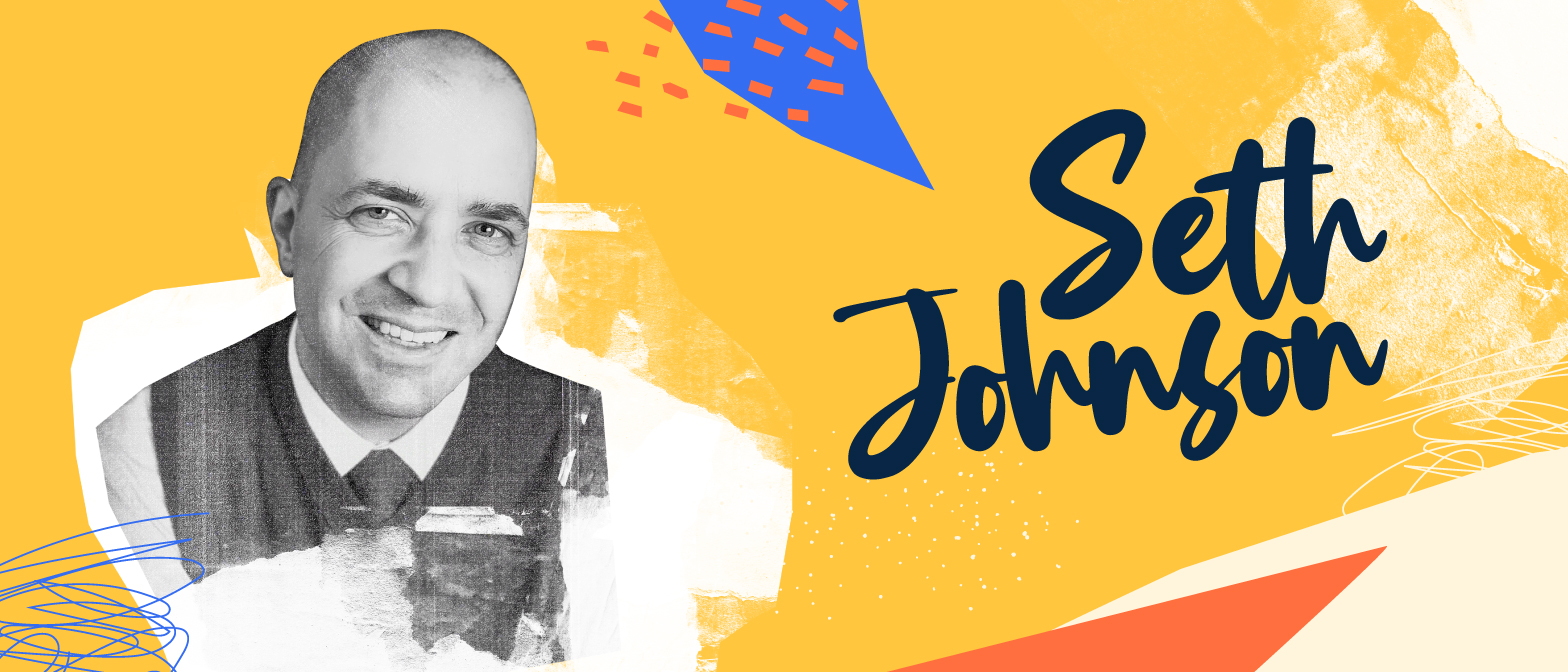 5 min reading time
Leading LearnUpon: Meet our Head of Customer Experience, Seth Johnson
What does it take to be Head of Customer Experience for a fast-growing LMS that holds great customer experiences at the heart of it's growth? We talked to Seth Johnson, who joined the LearnUpon team in October of 2020 as our first ever Head of Customer Experience.
Hired due to his impeccable ability to engage with, and understand, what customers want, we knew he'd help LearnUpon to prosper in its mission to always put our customers at the heart of everything we do.
Why did you join LearnUpon?
One of the most fulfilling experiences of my career was helping to build an awesome Customer Experience team for another learning-focused SaaS company. I was there from the beginning – from when it emerged as a young, toddler to a more grown-up, but still-has-a-lot-to-learn, teenager. 
While there, we grew exponentially; the CX team went from 25 people to 450, serving customers from 400 institutions to over 2,500. Our client footprint went from "We have customers in more than one country, I swear!" to being undeniably global.
Seven years went by and I still loved where I worked and who I worked with, but the work itself didn't stoke my fire any more. A little personal health crisis jolted me into the realization that the professional life's too short and fragile not to do something you love, if you're lucky enough to have choices. And, coming off a great run with a fantastic team and brand, I was spoiled for choice when I started looking. I picked a great software company in the productivity-tools space as my next adventure and spent a couple of years there helping shape and build another CX team. I planned to sink roots and stay there another seven years.
But, then I met Brendan Noud, CEO and Co-founder of LearnUpon, who suggested that even if I wasn't in the market, we should talk shop about building a Customer Experience team in the learning-SaaS space. I like talking shop, and I jumped at the chance. 
As we chatted, my dormant fire for the learning space kindled up again. I missed that fire. 
There's a bit of a quixotic thread that runs through my whole career; I like feeling that if I work hard and get lots done in my job, the world will be a slightly better place at the end of the day. And as purpose-driven work goes, helping great organizations empower people to become their best personal and professional selves, through learning, is pretty heady stuff.
I listened to Brendan talk about why he and Des Anderson, CTO and Co-founder, started LearnUpon, where they stand now, and where they'd like to be in the future. What I heard convinced me that I had to be part of this. We've a great product, a great and growing team, fantastic customers, a clear vision for the future. And perhaps most importantly, a time-tested and very genuine commitment to a set of core values that circle around "Putting our customers at the heart of everything we do."
I'm a CX leader passionate about learning; what more could I want in a professional home?
What makes you look forward to coming into work everyday?
One of the most-fulfilling aspects of my career is helping people learn and grow, especially people I work with closely. As a Customer Experience leader, I have the privilege of working with lots of very talented mid and early-career professionals with great ideas, tremendous potential, and bright futures. I love that I might be able to help shape their careers in some small way. There's this concept of a professional "butterfly effect" where a little time invested in one conversation with one person today goes on to positively affect others down the line. My job gives me lots of opportunities like that. No interaction with any colleague is unimportant, whether or not it seems to matter at the time, and it's often the least-considered words and unplanned conversations that have the biggest impact.
I also love the thought that our CX team helps great companies foster and sustain a learning culture in and around their organizations. Everybody wins when this happens. Similar to the "butterfly effect" concept, learning has tremendous, outsized leverage in business and in life more broadly; it unlocks human potential through mastery of skills and knowledge that learners can use again and again, every time they tackle a fresh problem, for the rest of their lives.
What has been your greatest challenge and proudest achievement since joining LearnUpon?
Setting us up to meet and exceed the needs and expectations of customers of different sizes and scales is a primary focus for myself and the team. Optimizing our set-up ensures we're empowering our Customer Success Managers by providing clarity around how to spend their time and prioritize tasks in order to best help their customers. And it's great for our customers, ensuring they get the most impactful and valuable attention from our team.
We've also launched a Customer Satisfaction (CSAT) survey for our Technical Support team. Great support is a huge part of our relationship with our customers, and while we hear anecdotally that working with our Tech Support team is a positive experience, we know there's always room to enhance and improve. 
What attributes do you think have helped you advance in your career?
I'm insatiably curious. I want to know something about everything. That's made me inclined to ask questions, and I'm pretty good at asking them. Combine that attribute with an absurd, phenomenal dose of luck that's placed me in close contact with hosts of smart people over the course of my career, and I've learned loads about so many different subjects.
I'm also careful to never close a door. I've not been one to make hard-and-fast "career plans" per se; I believe deeply that the best way to get the job you want is to be great at the job you have. So I've seized each fresh opportunity as it came along, worked hard (though not always smart) and let my career carry me along like a paddleless canoe. The ride's been fantastic so far. 
In saying that, I've been very choosy about which rivers I've launched into with this philosophy, and I'd urge anybody with a similar mindset to be equally selective. Every job has good bits and hard bits, and who you work with and the environment where you work together make all the difference.
If you were to meet your 20 year old self, what is the best piece of advice you could give yourself?
I'd tell myself that everybody has something to teach me and to assume the best of every person I meet. Also to take every opportunity to extract principles from piles of details; I've gotten further and faster by taking that approach than if I had relied solely on my own notions.