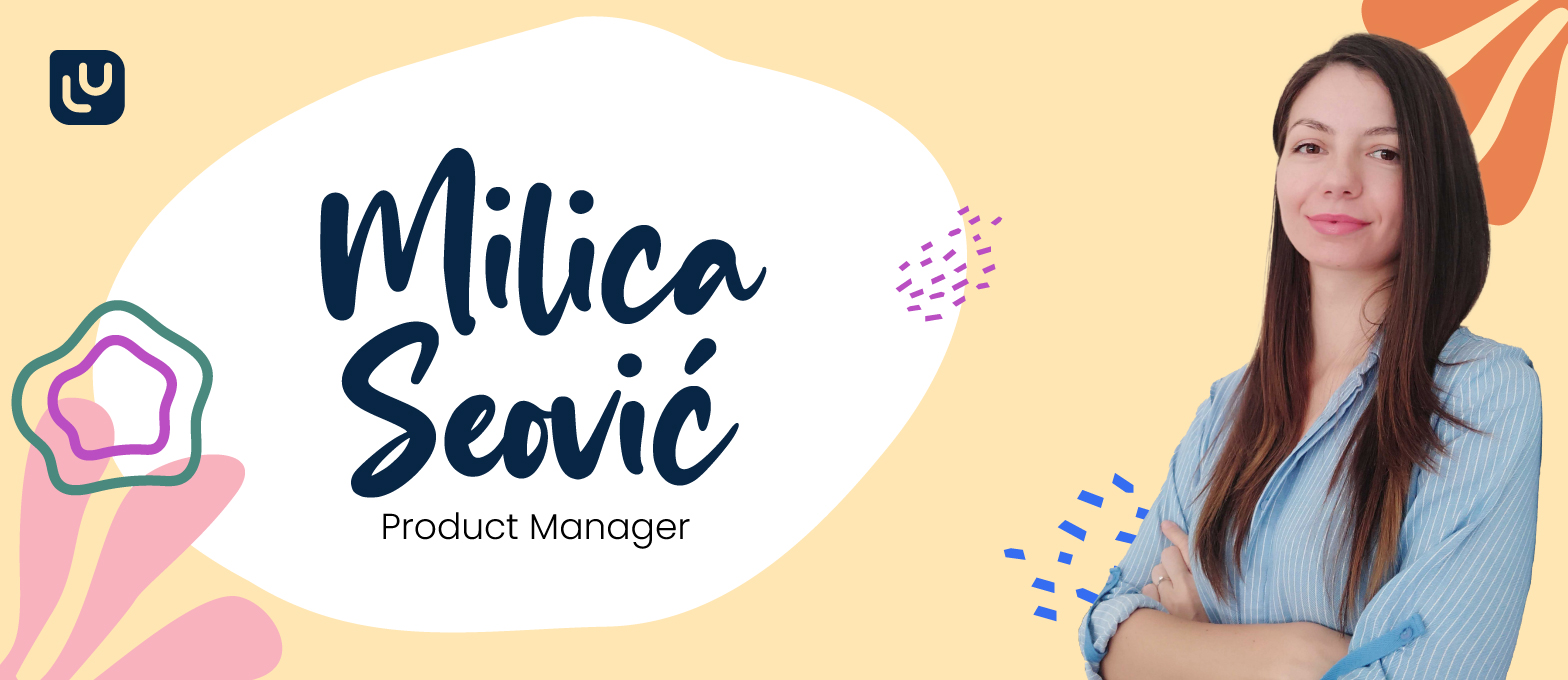 5 min reading time
Life as a Product Manager at LearnUpon
At LearnUpon, we put our customers at the heart of everything we do by providing them with a best-in-class product to support their training needs and goals. In this post, Milica Seović discusses what it's like to work as a Product Manager in a growing SaaS company where she is entrusted, together with the Product team, with driving the direction of our product to ensure it meets the needs of our current, and future, customers.
Tell us a bit about your background and what excites you about your role
With a background in architecture, I've had a lot of experience learning about the end user I'm designing for. Designing a space for yourself is something you only do once or twice in your life. The majority of the time, I'm designing spaces for complete strangers! Aside from putting myself in the shoes of others and empathizing with them, I have to consider the environment, site, different regulatives, trends, and so on in order to do my job to the best of my ability. 
I love working on designing new concepts with the team, and transferring the requirements into something tangible. I think this love comes from my previous roles. Architects experiment with, and learn through, a rigorous iteration process. In order to get to the final design, they create a large number of process models, using the materials that are most suitable for investigating the given concepts. 
During my time at LearnUpon, I've progressed from Product Owner to Associate Product Manager, and then on to Product Manager. You may be thinking that transferring into a Product Manager position was quite the pivot, but in reality, all of these skills were 100% transferable to my current role!
Our customers and the market
What I love about our approach to building products at LearnUpon is how we make every effort to interact with our customers as much as possible. We are, after all, creating a product for them. The discovery phase is a 'high risk' stage of the product life cycle, during which we research ideas, market and customer needs, evaluate challenges, experiment with solutions and, finally, identify opportunities. This phase is all about empathizing with the customer and understanding their needs. My focus during this phase is on interviewing customers and internal teams who are close to our customers or prospective customers, reading through different materials and analysing the usage data. 
My perspective on customer research has evolved over time. The most essential thing I've learned from customer calls is that every customer is different. Every customer call is unique, and dependent on a million factors. The best skill a Product Manager can have is the ability to improvise and adapt to the circumstances, and to be honest and open in your approach to customers.
The key to great customer feedback is truly uncovering the 'why'! If we took every piece of feedback at face value, prioritization of our roadmap would become impossible. Understanding the 'why' behind each item of feedback is crucial as it reveals the true need, which can oftentimes be interpreted in a variety of ways. Knowing the 'why' enables me to bring the need to the team and ideate on solutions and identify opportunities. 
A strong understanding of the market and competitor offerings is also a crucial element in prioritisation, alongside understanding the organizational product strategy and the 'north star' solution we're aiming for.
Tools to bring focus to brilliance
I am fortunate to work with fantastic customers and teams, who are highly equipped with brilliant ideas and diverse perspectives, but determining how to direct our product's route without being swayed by brilliant ideas and perspectives is one of the most challenging aspects of my job.
Deciding which of two equally appealing ideas to implement first is what keeps me awake at night! More importantly, how can we adapt the project to cater for new circumstances, discoveries, and ideas? Fortunately, the 'how' is as simple as implementing objective frameworks for product decisions and prioritization, listening to stakeholder feedback, and being willing to pivot if necessary. 
To aid in our high-level prioritization, I utilize the MoSCoW framework to arrange the desired outcomes into four groups based on priority:
'

Must-have

' outcomes are those that we cannot launch without; 

'Should-have'

initiatives are those that are preferable to have, but will not prevent the product from functioning properly;

'Could-have'

initiatives are those that would be great to include if there are enough resources but are not required for success. The line between 'could-have' and 'should-have' can appear extremely thin; 

'Won't-have'

outcomes are those that will not be included this time around.
To encourage better team conversations during MoSCoW sessions, we usually have a User Persona established and their objective. User Personas are a great tool that help us to see through the eyes of our customers! They can easily assist us in prioritizing and defining what brings our user the greatest value, what is the enabler, which basically helps us to determine the minimal viable product.
Tell us about a typical day for you as a Product Manager at LearnUpon
A Product Manager's day varies depending on the stages of the project you are working on. This is one of my favorite aspects of the Product Manager position at LearnUpon. Every day is unique, and these 'cycles' keep the thrill of the job going.
In the discovery phase of the project, I focus a lot on interviewing customers and internal teams that are close to the customers or prospective customers, reading through different materials and analyzing usage data. 
In the ideation phase, I organize workshops with different stakeholders. We design initial concepts, do the internal validation, and have multiple iterations until we get something that's worth validating with our end users. 
When it comes to the building phase, this involves transferring the concept to manageable chunks, refining the concept with the Development team, and reviewing implemented changes. 
Completing the circle with the validation phase, during which myself and a Product Designer are back on calls with our customers, understanding how the beta solution fits their needs, and learning how to adapt the solution, along with identifying what potential future iterations might look like. Of course, there's a lot of communication and documentation every day, in every phase, involving many different stakeholders.
When you first joined Learnupon, did you imagine this is what the role would be like?
When it comes to professional development, the great thing about LearnUpon is that you always have the wind at your back to progress along the path that feels best for you.
During my initial interviews for a Product Owner position, there were several rounds in which I was presented with the expectations of my work. I met the Product management team, and completed a practical task with the Development team in the room, which was really interesting for a 'communicator' role. In accordance with the organization's plan and my own preferences, I progressed from Product Owner to Associate Product Manager, and then on to my current role as Product Manager. This was a seamless transition with a lot of learning along the way, and I am excited to see what professional development opportunities are in the future for me. I never expected to be so well supported in my career at LearnUpon.
I would encourage anyone who is interested in a Product role, or any role at LearnUpon, to reach out via LinkedIn or one of our other social channels (Facebook, Instagram) to find out more.