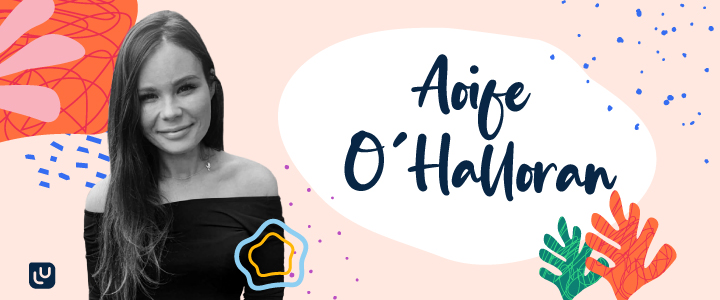 3 min reading time
Life as an Account Executive at LearnUpon
At LearnUpon, we're always on the lookout for stellar talent to join our growing Sales team. We value our people and want to give them the opportunity to do what they enjoy, and develop their skills in the areas that interest them. So, we're building a culture that fosters open collaboration, empowering our people to do their best work alongside a friendly, supportive team who, most importantly, like to have fun!
Now, it's no secret that a career in sales can be all things exciting, rewarding and challenging, and no one understands this better than salespeople themselves. Having worked as an Account Executive as part of LearnUpon's Sales team for over a year now, we decided to sit down with Aoife O'Halloran to find out what drew her to LearnUpon and what she loves most about her role.
Tell us a little about your background
My background is a varied one; I've worked in public affairs at a political technology company in Brussels and have also worked in fashion styling, travel as well as being Santa's elf, but that's a story for another day!
I've always been passionate about learning. In any role I've ever had, training was always something I focused on. After all, you don't become the best by osmosis – you have to learn and grow. And I'm certainly still learning, making mistakes, and growing every day.  
Why did you decide to join LearnUpon?
What drew me to LearnUpon was being a part of a business that empowers other organizations to train their employees, customers or partners, and help ensure their success. That is special!
The eLearning industry is thriving and growing at a rapid pace, so I knew I was future-proofing my career by joining LearnUpon. The role that our LMS plays in helping our customers meet their learning goals, and the impact that has on their company, is something we're incredibly proud of. 
What was the interview process like?
The interview process with LearnUpon was straightforward and has four stages. Firstly, you have a chat with one of the Talent Acquisition team to discuss the role in detail and share a little more about you, so they can understand the experience and skills you can bring to the role.
Then, you move to the next stage which is a 90-minute interview with the Sales Management team. It sounds daunting, but in reality it's not! It's more of a get-to-know-you session to chat about your background and motivations for wanting to join LearnUpon.
Next, is a practical interview where you select a company and take them through a sales discovery of LearnUpon. Lastly, you meet with someone from the Sales team so you can get answers to any questions you may have from a potential future LearnUpon peer.
What do you value most about working at LearnUpon?
At LearnUpon, we're not just creating a product, we're creating a culture and a company where people are empowered to bring their personalities, ideas and best selves to work! That's why culture is fundamental to the success of LearnUpon. It's something we place a huge emphasis on, and it plays a crucial role in why LearnUpon is so successful (of course, our amazing product helps too!).
I wish I had known how supported I would be in my role at LearnUpon before I started. Feeling confident and safe to express vulnerabilities, doubts and fears to my team, and crucially to my manager, is something that has been vital to my success at LearnUpon.
Like most roles, Sales isn't easy. You're dealing with challenges regularly but that's just the nature of the beast. The true magic of LearnUpon is how we as a team can share our wins, commiserate our losses, and above all else, be honest. It is truly liberating to know I can do that at LearnUpon and that's thanks to our people and our culture. I can truly say that LearnUpon is the best organization that I have ever worked for. And the great news is…we're hiring! 
I would urge anyone who is interested in a Sales role or any role at LearnUpon for that matter to reach out via LinkedIn or one of our other social channels (Facebook, Instagram). I did exactly that when I applied for my role, (thanks, Karl Whyte) and I haven't looked back since!