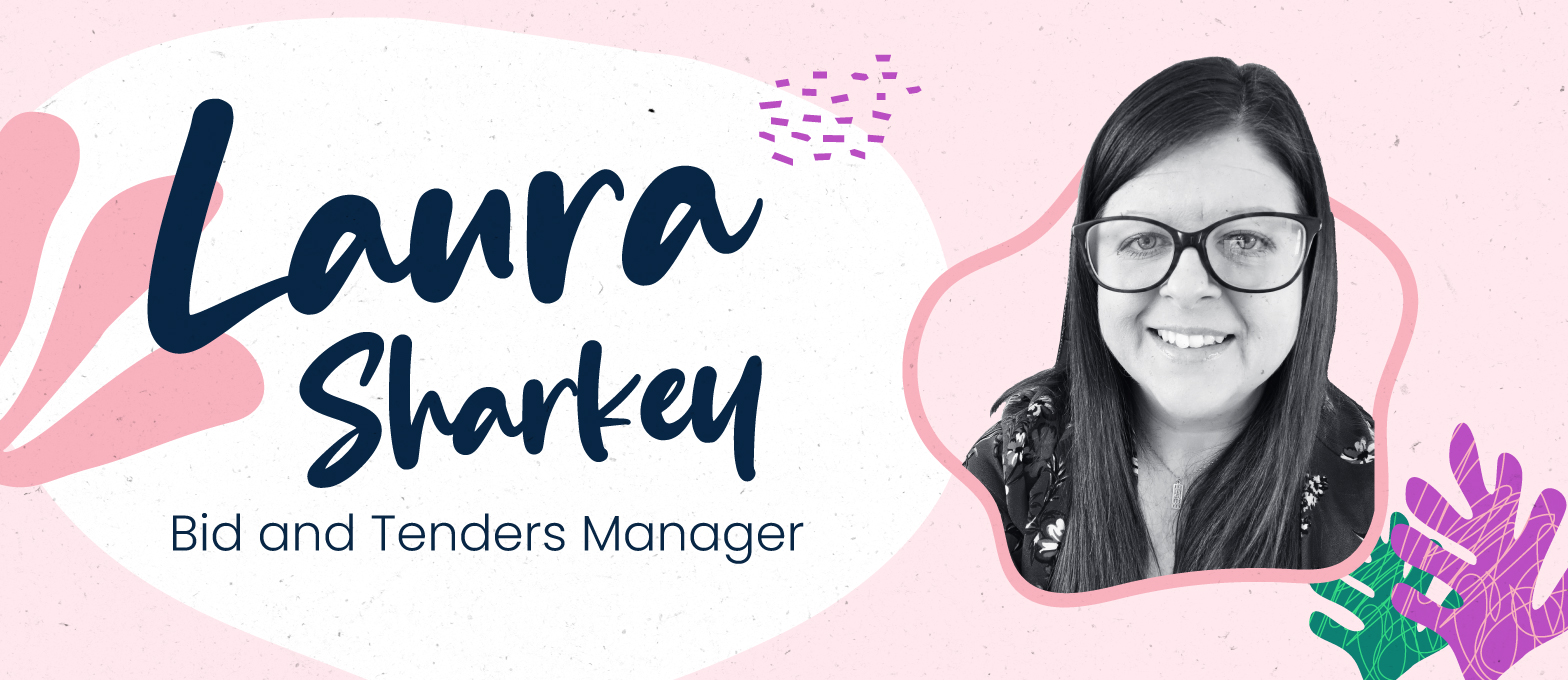 3 min reading time
Meet LearnUpon's First Bid and Tenders Manager
What does it take to be a Bid Manager for a fast-growing LMS that holds great customer experiences at the heart of its growth? In this Life at LearnUpon post, we talk to Laura Sharkey about her journey to becoming Learnupon's first ever Bid and Tenders Manager.
Tell us a bit about your background
My first proper job was in a large multinational technology company over 20 years ago. There, I worked in many different departments across the business, from finance to sales and everything in between. I then got into bid management in 2016 with one of the largest facilities management companies in the market and, from there, went to another SaaS company. After a few years there, I landed my role in LearnUpon.
How did you get into this career path?
I'd never heard of bid management until I left the technology company, but I was always working in supporting functions while there. I took a maternity cover role as a Sales Coordinator for a facility management company. That was my first taste of bid management. My manager there saw the skills I had for the role and nurtured those abilities. We did a lot of chunky, complex tenders for both the private and public sectors which I really enjoyed. From then, I knew this was what I wanted to do. It took me a while to find my calling but I love it.
Tell us more about your role and how it supports the sales func
tion
As the first Bid Manager at LearnUpon, my role was to carve out the bid management function, implement workflows, improve our quality of response, and streamline the process. By doing this, my goal was, and is, to help take the administrative burden associated with tenders away from the Sales team and free them up to focus on closing deals. I look after all of the tenders that come into LearnUpon as well as small proactive proposals, technical questionnaires, re-tenders for existing clients – there's many things in my net. I don't just work on tasks that are strictly tender related, I work on anything that falls under the sales umbrella and will help to close out a sales cycle.
As this is a new function, what were the biggest challenges when you started?
Getting the team to understand what my role is; what I do and don't do. And for them to let go and trust in what I was capable of doing. I also prioritized understanding what everyone in LearnUpon does, and who to reach out to when I need help with my role. It's part of the world we live in now. You can't just pop over to someone's desk to ask a quick question, but everyone was really friendly and helpful from the start, which allowed me to get up to speed quickly.  
What has been the most rewarding part of your first year at LearnUpon?
The chance to come in and be the first person to do the role. There was a clean slate so I could make it my own. I've been given loads of autonomy to map things out and develop the function. The support I received made it very easy to feel comfortable doing my job. The LearnUpon Sales team are a fantastic bunch of people and a pleasure to work with!
What advice would you give to someone trying to get into this type of role?
My advice for anyone looking to become a Bid Manager is to go for it; you will not regret it! For me, it is the best role of my career to date. It is a challenging, exciting, ever-evolving role that never leaves you resting on your laurels! You also get to work with lots of different subject matter experts from all areas of business.
I sort of fell into bid management; I never knew this type of role existed before I stumbled into it and immediately fell in love with it. A Bid Manager needs to be detail-oriented, organized, approachable, a multi-tasker, able to work with people at all levels of an organization, and also able to change direction on the fly. At times, you may have to give an unpopular opinion or have a difficult conversation in your pursuit of tender response perfection!
​​If you are interested in a sales role, or any role at LearnUpon, feel free to connect with us on LinkedIn or one of our other social channels (Facebook, Instagram).