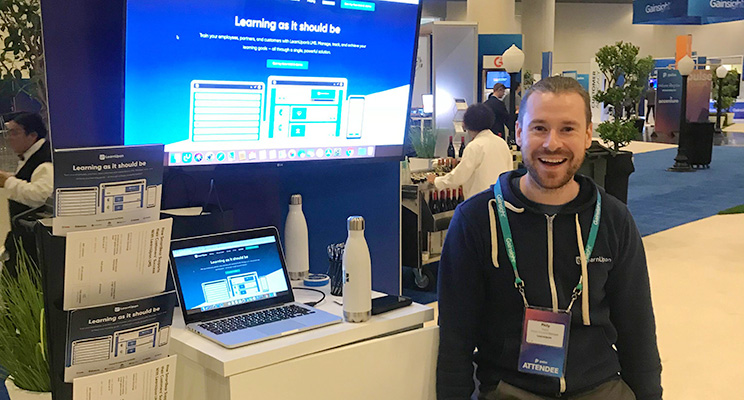 3 min reading time
What I've Learned from 5 Years of SaaS Sales
When I joined LearnUpon, I had zero experience in selling anything (other than cattle on my family farm!). The way I approach my role has fundamentally changed from day one, due to the experiences I've had, and what I've learned.
I was lucky enough to join LearnUpon very early on, and since then I've learned through trial and error, as well as reading every SaaS sales blog I could find. Here's some practical advice for anyone starting out in a Software Sales Role. 
Sales Tips
1. Personality 
Enthusiasm 
You need to find a product or solution that you're genuinely enthusiastic about. That enthusiasm will shine through in everything you do. 
A phrase I use to describe this is "What makes something exciting? Just being excited about it!" If you're excited about how the product or solution you're selling will help your potential customers, then those potential customers will probably get excited about it too. If you're not, they probably won't be either. 
Enjoyment
During the Sales process, if successful, you'll likely have spent a substantial amount of time with the prospect. And if you're enjoying that process, there is a much bigger chance that they are too. People like spending time with people who like spending time with them. Ultimately. if you're the vendor that your prospect prefers spending time with, then they'll be more likely to devote their time to your offering, and in turn, be more likely to choose your solution. 
Confidence
Confidence is the result of two factors – the level of work you've done and the experience you've had. Those two factors should give you what you need to be confident when interacting with prospects. It's vital to convey your confidence in delivering the whole solution to your customers. J.W. Stephens said it best when he said, "Be the person your dog thinks you are!". 
2. Authority
It sounds cliche, but you need to understand your potential customers. So, let me break down what I think it means. 
It's business, but it's personal. It's always personal. When you're looking at your potential customers' drivers, always keep in mind the drivers for the individual you're working with. For some people, this might be helping them understand why your offering will help them to develop their career. For others, it might be solving a personal problem for them, like putting hours back in their day. 
For the potential buyer's organization itself, you need to understand their business model so you can convey the importance of your product. This means tying your product back to exactly how their business works. This is something that too many software vendors overlook. This approach will resonate with the buyer and make you stand out for all the right reasons.
Go further than any other vendor by educating your prospect. They need to leave every interaction with you more informed about how your product can help them. A book that really helped me understand this is "The Challenger Sale" by Matthew Dixon. 
Work with prospects who are a good fit from attitude to use case. If there isn't a good mutual fit, then communicate that to them. More times than not, you will be thanked for it. It builds authority and enables you to spend most of your time working with customers who you can create an amazing partnership with. 
3. Management
Represent
You only get a certain amount of time and attention from anyone, including your potential customer. You need to represent your organization's corporate goals in a clear and concise way. At LearnUpon, we put our customers' at the heart of everything we do. That focus needs to come across in every interaction with your potential customer. It's not good enough to simply say it. You need to live it. 
In our case, we demonstrate it by providing unrivaled support and guidance in a really personable way. This enables us to ensure that our prospects are getting the same level of service that we know they'll get when they become our customers. 
Know your funnels™
You need to know the details of your potential customer at all times. How did they find your organization? What piqued their interest? What other vendors are they evaluating? What is their typical decision process? Who are the key stakeholders? The answers to these questions should inform every interaction you have with your potential customers, and hopefully, lead you down the path to success.