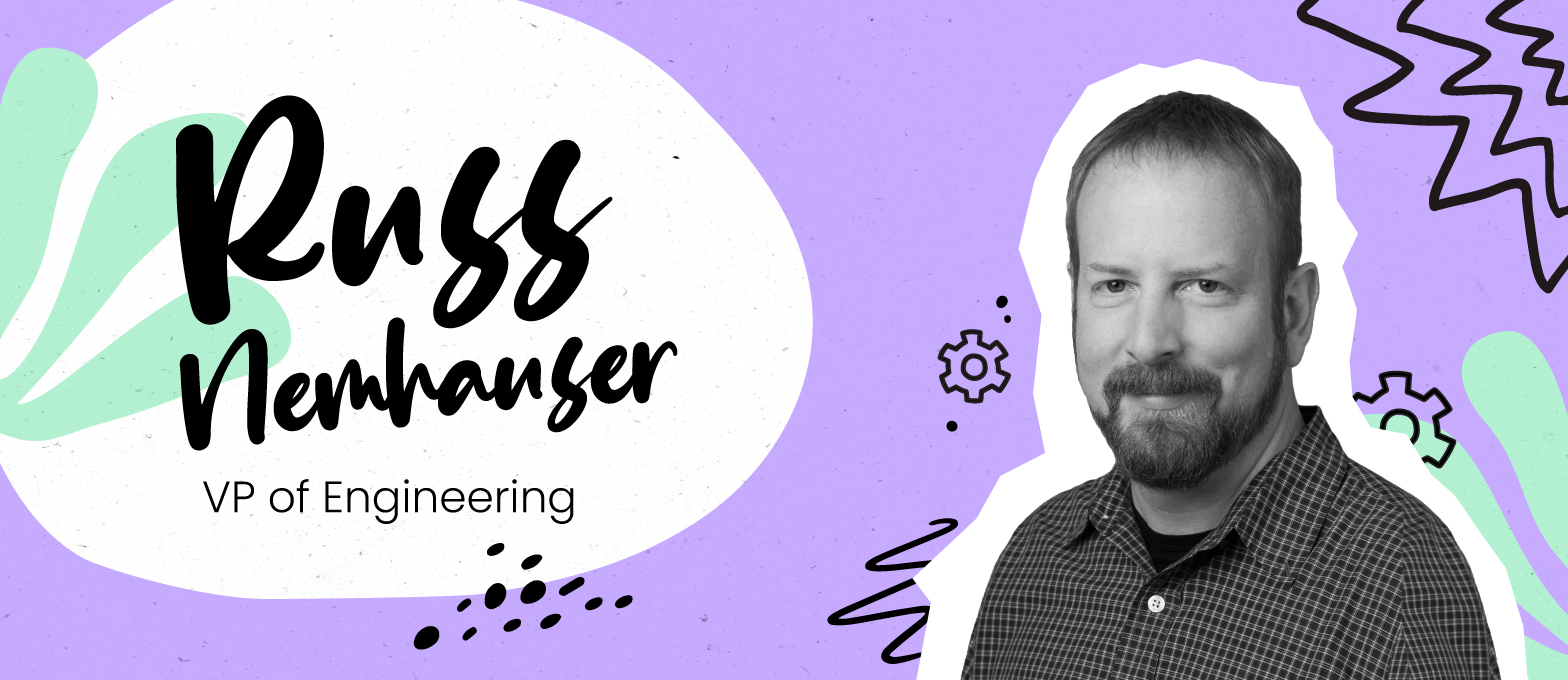 3 min reading time
Leading LearnUpon: Meet Our VP of Engineering, Russ Nemhauser
What does it take to lead an engineering team for a fast-growing LMS that champions simple, learner-centric experiences and results-driven support? 
We sat down with Russ Nemhauser to talk about his journey to becoming LearnUpon's VP of Engineering. Russ has led engineering teams for the last twelve years after spending time as an individual contributor for several companies. Having spent years as a technology influencer and conference speaker, he has also contributed to several technology publications in print and online.
Russ, what made you decide to join LearnUpon?
I had spent over eight years in the learning business, starting at Lynda.com and then LinkedIn Learning after the acquisition. I was ready to expand my horizons and decided to move to Ireland and join LinkedIn's Data org, where we built a team to maximize the quantity and quality of information in LinkedIn's economic graph.
One day, Des, our CTO and co-founder, sent me a very nice message, saying they're looking for a VP of Engineering to help LearnUpon through its next phase of growth. But I wasn't sure if returning to the learning industry was the right direction for me. Over the next couple of weeks, the more I thought about it, the more I realized that I had learned a lot in those eight years and that this was an opportunity to apply the lessons I learned (some the hard way) at a higher level.
When I met with Des, he would talk about some of the struggles LearnUpon was going through, and I kept saying, "I think I might be able to help with that." The more we spoke, the more excited I was, and after meeting CEO and co-founder Brendan, our COO Susan, and our CFO Derek, I was certain this was what I wanted to do.
What is it about your job that makes you excited to come in every day?
The people. Brendan and Des have really built something very special here. They've created a great culture, and what's most important is that it genuinely matters to them at all levels of the organization. 
What inspires you?
Seeing people grow and succeed really inspires me. Sometimes I get to be a part of that, sometimes not, but the feeling of inspiration remains. The experiences that we all have, both at work and outside of work, give us various tools that we use at different times and for different things. When I see people learning a new tool that has a positive impact on their lives, that's very inspiring to me. I love a culture in which people help each other succeed.
If you were to meet your 20-year-old self, what is the best piece of advice you could give?
I don't think about it like that. The experiences I've had throughout my life have brought me here, and here is where I want to be. I'm happy to be living in Europe now and happy that I get to do what I love with people that I love to work with. So the advice to give to my 20-year-old self would probably be something like, "Buy Apple stock."
Our Engineering team is growing. What makes LearnUpon a great opportunity for someone looking to take their career to the next level?
LearnUpon just had its tenth anniversary. We are at the beginning of a sea change, and that transformation presents us with some considerably complex and crucial problems to solve. Over the next few years, we're investing a great deal in our technical foundations to really push the envelope on scalability, availability, accessibility, security, and reliability, as we continue to deliver value for our customers. 
To be successful, we need great engineers to join us on our journey and help us to prepare LearnUpon for the next ten years. You can be part of a team that helps businesses all over the world deliver great learning to achieve results.
If you are interested in an engineering role, or any role at LearnUpon, feel free to connect with us on LinkedIn or one of our other social channels (Facebook, Instagram).